So The weather here has been whacked. By that I mean it was feeling like summer for a week or so, now it's winter. We had to put our baby chicks in the house because we have nowhere else to put them. They are already smelling the place up. and knocking their food and water containers over.
In other news: Horse wearing a hat.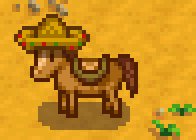 That is all.
Ok but that's hilarious and gold! Also you can get the sims 2 for the DS. and castaway. so that's neat. I have played The sims 2 on the pc when I was like 8.
I had clue what I was doing. I ended up killing the sim because I was build my dream house and spent all the money i had it. But it didn't have the essentials. So my sim died. The Grim Reaper scared me. And I never played again.
Come to think about it, the Sims 2 Grim Reaper still looks creepy. S3GR looks creepy too but not like the S2GR. S4GR isn't, it's just kinda goofy in a way.
Then again a lot things tend to get tone down. And not just in the sims case either. Kinda sad.
Can't wait for Stardew Valley Multiplayer though… and hats on horses. :3
-DG